Richie Contartesi Keynote Speaker
#1 Best-Selling Author, "In Spite of the Odds"
Former professional football player
Founder & President, Next Play™
Richie Contartesi's Biography
Richie Contartesi partners with sales leaders to dramatically skyrocket sales, eliminate complacency, and create a consistent high-performance sales culture. His unique accountability system, Next Play™, is a step-by-step playbook to hold sales reps and leaders accountable to their potential every week without micromanaging.
Richie started his journey when he went from a 5'7" 150 pound walk-on at Ole Miss to becoming a Division-1 football scholarship athlete in the powerhouse SouthEastern Conference. He also went on to earn the coveted SEC Scholar Athlete award.
After his graduation from Ole Miss, Richie played professional Arena football, authored his #1 bestseller, "In Spite of the Odds", was featured in the movie "Rudy Ruettiger: The Walk On", and founded Relentless Warrior and Next Play™.
Using this same drive and accountability system, Richie went on to break records in sales performance at a fortune 500 company, built a 7-figure nation-wide performance coaching program, and today helps companies scale to completely new levels through the Next Play™ Accountability System.
Richie shares each success story from the lens of the audience resulting in a renewed inspiration you can feel in the room. He speaks frequently to large audiences and partners with businesses of all sizes including major corporations worldwide like IBM to build teams who are clear on their goals, focused on their next play, and accountable each week, resulting in their rapid growth and record engagement.
Read More
Richie Contartesi's Speaking Topics
KEYNOTE FOR SALES LEADERS - Next Play™: The Accountability System That Results In Retention, Profitable Growth, & Consistent Peak Performance
The greatest skill a leader can learn is the ability to help others realize and exceed their potential. But, most leaders manage people, implement lots of training, and sometimes even coach, but very few have the ability to also hold their team members accountable to their potential every single week. What's missing is a tool and system to keep people moving forward regardless of adversity.
KEYNOTE FOR SALES TEAMS - Next Play™: The Accountability System That Eliminates Complacency and Results In a Profitable Growth
The Next Play™ Accountability system provides the accountability your sales team needs to drive consistent results week after week. It's a simple 3-step tool your team can use to go from stuck, frustrated, down and put them into instant action. It's not just being focused, but more importantly, what you are focused on. This tool will keep your team set clear on their goals, focused on their next play, and accountable every week.
Read More
Videos of Richie Contartesi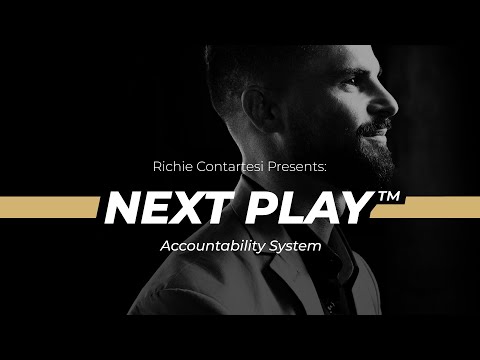 Sales Motivational Speaker | Sales Kickoff Speaker | Accountability | Richie Contartesi | Next Play™
Comments & Testimonials
"Richie thank you for jumping in and crushing itl Your message not only resonated with my team but I took away a number of great principles that will help me lead better. Appreciate you really taking the time to understand our business especially on such short notice. I've been getting all kinds of comments on how many it only took a few sessions and you knew our playbook more than others who have been with us for a while. You picked it up super fast and appreciate you getting the team fired up to get SKO started"
Michael Sundareson Senior Vice President, Global Sales and Strategic Growth at BrightEdge
Check Richie Contartesi's speaking fees and availability