Matt Hancock Keynote Speaker
Former UK Health Secretary
Leading role in the UK response to Covid; led development & roll-out of the vaccine
One of the most senior political figures in the UK outside of Government
Matt Hancock's Biography
Matt Hancock is a leading UK politician who most recently served as the UK Health secretary until June 2021.  He is an insightful and entertaining speaker around the topics of healthcare, politics and economics.
In his role as Health secretary Matt was central to the nation's response to the biggest pandemic in over 100 years. Throughout the pandemic he was the Government's principle spokesman in the House of Commons and the media.  Matt was also regularly  the Prime Minister's primary alternate at the daily Covid press conferences and communicated the government's response to the virus to the public.
Matt played a leading role in the development and deployment of vaccines against Covid-19, which saw the UK develop one of the world's most deployed vaccines, lead the world in the roll-out of vaccines, with 44 million people vaccinated in the first six months.    There are a few people better placed outside Government to understand and explain the UK and global response to Covid-19, and what the future holds.
Matt has served number if high profile roles over the past 15 years and he has held Ministerial office for Education, Business, Energy, the Cabinet Office, and Culture, and was the youngest person to attend Cabinet in the 21st Century.   He is known for being one of the leading voice for liberal one-nation conservatism.
Matt has consistently openly spoke about his dyslexia to encourage others.    In addition to his Ministerial life Matt has been the MP for West Suffolk since 2010. He is the first sitting Member of Parliament to win a horse race under rules since the First World War at his beloved July Course in Newmarket.
Before entering Parliament Matt worked as an economist at the Bank of England for 5 years.  He has also previously led an expedition to the North Pole. He failed to reach the Pole, succumbing to frostbite on the Artic ice.
Speaking Topics:
What was it like to be Health Secretary during the Global Pandemic ?
The Future of Healthcare: what is the role of digital, data and technology in the Healthcare & Bioscience Sectors?
The UK Economy: a general overview of the UK economic outlook.
Understanding UK Politics and the motivations behind some of the key decisions being made by the government.
Read More
Videos of Matt Hancock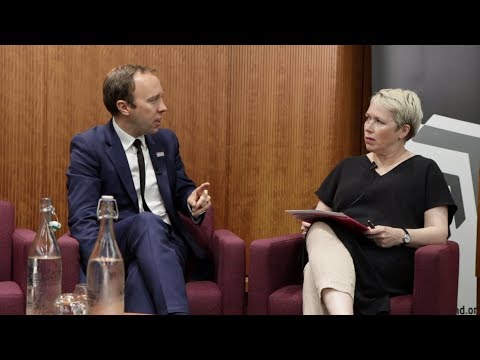 Matt Hancock and Suzie Bailey in conversation at the Ninth annual leadership summit | The King's Fund
Articles, Media & Podcasts
Books by Matt Hancock
Masters of Nothing: How The Crash Will Happen Again Unless We Understand Human Nature - Co-Author
Check Matt Hancock's speaking fees and availability