Johanna Maska Keynote Speaker
CEO, public affairs consulting firm Global Situation Room
Former White House Aid to President Barack Obama
Former Vice President of Marketing and Communications, Los Angeles Times
Johanna Maska's Biography
Johanna Maska is CEO of public affairs consulting firm Global Situation Room, Former White House Aid to President Barack Obama and keynote speaker on government, politics and communications.
During her early career, Johanna worked in politics in Iowa and Kansas. She worked for the Obama campaign in the 2007 Iowa caucuses and played a significant role in both successful Presidential elections.
During Obama's Presidency, she was Director of Press Advance and managed his public image on domestic and international trips for eight years, including on extended tours across Asia, South America, Europe and Africa. She was integral in the planning of dozens of international Summits including APEC Hawaii, NATO Chicago and G8 Camp David.
Following the White House, she moved to Los Angeles to become Vice President of Marketing and Communications at the Los Angeles Times. Since then she has also taught at the University of Southern California and was a Fellow at the University of Kansas' Dole Institute for Politics. In addition to her current role as CEO at Global Situation Room, she also advises technology companies.
She hosts Cadence13 award-winning podcast, 'Pod is a Woman', in which she discusses politics and popular culture with fellow White House veterans.
Read More
Videos of Johanna Maska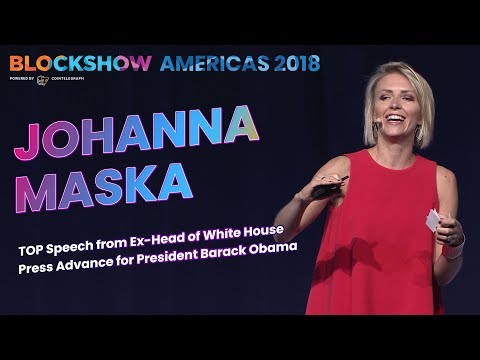 BlockShow | Johanna Maska. TOP Speech from Ex-Head of White House Press Advance for President Barack Obama
Articles, Media & Podcasts
Check Johanna Maska's speaking availability and fees