Jessica Gioglio Keynote Speaker
Author, The Laws of Brand Storytelling & The Power of Visual Storytelling
Former marketing, social media and public relations leader at Dunkin' Donuts, TripAdvisor, Sprinklr
Innovative thought leader in marketing, storytelling, public relations, social media
Jessica Gioglio's Biography
Jessica Gioglio is an expert and speaker on marketing, communications, innovative digital marketing, social media and public relations. She is Founder of marketing consultancy With Savvy Media & Marketing and author of two books.
Jessica authored 'The Power of Visual Storytelling: How to Use Visuals, Videos, and Social Media to Market Your Brand', which explores using a creative visual approach to grow your business and strengthen your brand, and 'The Laws of Brand Storytelling: Win-And-Keep-Your Customers' Hearts and Minds', which demonstrates how powerful storytelling can win over customers' hearts, minds and loyalty.
She founded With Savvy Media & Marketing, a boutique marketing consultancy, in 2014. She works with clients to deliver strategic branding, storytelling and content marketing. She has worked for companies including Dunkin' Donuts, TripAdvisor, State Street, Comcast and Sprinklr, amongst others, to deliver award-winning innovative digital marketing, growth-marketing and public relations services.
As part of these roles, Jessica has challenged celebrity TV host Jimmy Fallon to a dance-off, tweeted live from a Hollywood red carpet, and overnighted copious amounts of President Obama merchandise to national news outlets, all in the name of brilliant marketing and public relations. She has also successfully navigated brands through crises including terrorist attacks, activist groups, health and safety issues, customer incidents, lawsuits, and more.
Jessica is a recognised marketing thought-leader. She has been listed as a top marketing expert by LinkedIn, HubSpot, TopRank Online Marketing and We Are The City. Her insights and expertise have featured in USA Today, PR Week, Computer World and Chief Marketer. In her spare time, Jessica covers her travel, life in London, and other adventures in her blog, The SavvyBostonian.
Speaking Topics
The New Rules of Brand Storytelling
Make Your Marketing Memorable With Visual Storytelling
The Future of Marketing / Social Media / Public Relations
How To Navigate Any Brand Crisis On Social Media
Read More
Videos of Jessica Gioglio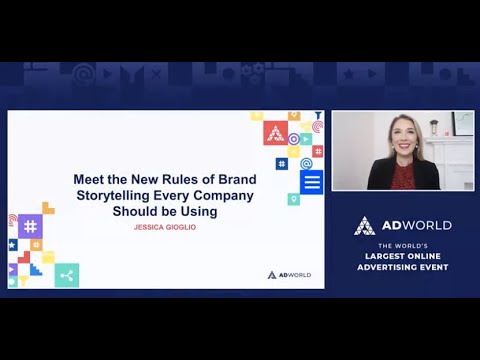 The New Rules of Brand Storytelling Keynote: Jessica Gioglio, Author, The Laws of Brand Storytelling
Articles, Media & Podcasts
Books by Jessica Gioglio
The Laws of Brand Storytelling: Win―and Keep―Your Customers' Hearts and Minds
The Power of Visual Storytelling: How to Use Visuals, Videos, and Social Media to Market Your Brand
Check Jessica Gioglio's speaking fees and availability