James Fok Keynote Speaker
Financial and strategic advisor to corporations and governments.
Author of the book 'Financial Cold War'.
Senior executive at Hong Kong Exchanges and Clearing (HKEX) from 2012 to 2021.
James Fok's Biography
James Fok is a veteran financial and strategic advisor to corporations and governments. He served as a senior executive at Hong Kong Exchanges and Clearing (HKEX) from 2012 until 2021, during a period of rapid internationalisation in China's capital markets. While there, he played a major role in a number of landmark financial markets initiatives, including the launch of the Shanghai-Hong Kong Stock Connect programme (2014), Bond Connect (2017), the Hong Kong market's Listing Reforms (2018), and HKEX's attempted hostile takeover of the London Stock Exchange Group (2019). Prior to HKEX, Fok worked as an investment banker in both Europe and Asia, specialising in the financial services sector.
Fok is author of the book Financial Cold War and has written and spoken extensively about market structure issues and the intersection between geopolitics and international finance. He is an Advisor to the global consultancy firm Bain & Company and sits on the Advisory Board of Hex Trust. He also serves as an International Member of Ireland for Finance's Industry Advisory Committee (2021-), and previously served on the Executive Board of the International Securities Services Association (2018-21), and the Financial Services Advisory Committee of the Hong Kong Trade and Development Council (2014-21).
Read More
James Fok's Speaking Topics
• The Financial Cold War
How have national financial policies and the structure of the global financial system contributed to geopolitical conflict, particularly between China and the US?
• China's capital markets internationalisation
Over the past two decades, China has followed a very gradual path towards internationalising its capital markets, but its domestic financial markets remain severely underdeveloped relative to the size of its economy. What are the key decision factors driving further reforms, and how might policies be impacted by recent developments?
• Geo-economic warfare
Amidst the growing trend towards weaponisation of the global financial system, what are the principle tools in countries' geo-economic arsenals and where might geo-economic conflict lead us?
• The market infrastructures underlying the global financial system
The "plumbing" of the international financial system has a huge bearing on global capital flows and confers enormous power on the parties that control it, but this critical infrastructure is all too often overlooked. Who are the key players, how have they evolved, and what are the factors driving major shifts in the platforms underlying the global financial order?
• Hong Kong's role as a global financial centre
Hong Kong has played a critical role in intermediating capital flows between China and international markets. In light of recent developments, what is the future for Hong Kong as a global financial centre?
Read More
Videos of James Fok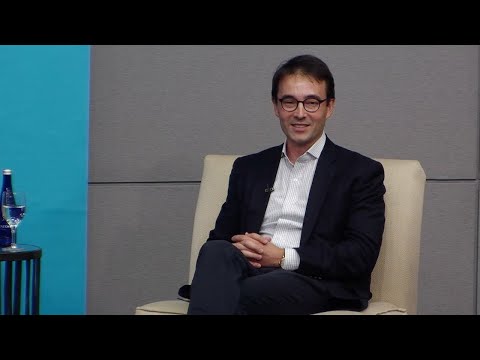 Financial Cold War: A View of Sino-U.S. Relations From the Financial Markets. Talk at the Asia Society, New York (6 May 2022)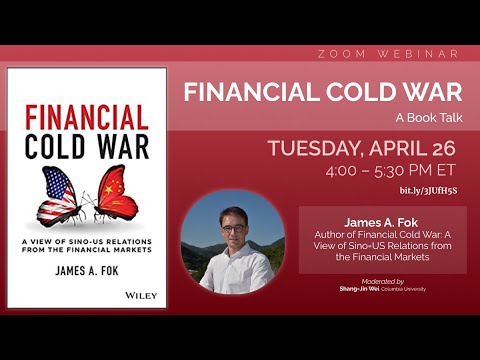 Financial Cold War – Book talk at the Weatherhead East Asian Institute of Columbia University (26 April 2022)
Articles, Media & Podcasts
Books by James Fok
Financial Cold War
Comments & Testimonials
He brings out very clearly the fragilities and dangers created by the financial connections between these two very different and increasingly rivalrous superpowers.
Martin Wolf Financial Times
My only gripe about James Fok's take on the bumpy road ahead for US-China relations is that his book doesn't include a seatbelt. His message that things are about to get turbulent, one offered in uniquely personal terms, should be necessary reading for investors and businesspeople everywhere.
William Pesek Forbes and Nikkei Asia columnist
Fok leads us carefully through the past so that we can think constructively about the future.
Kevin Coldiron Forbes contributor
James Fok has used his unique vantage point of working at the intersection of international finance and the Chinese economy to provide invaluable insights and analysis of this new geopolitical and geoeconomic frontline.
James Shipton, Former Chair Australian Securities & Investments Commission
James Fok's book highlights the explosive risks in the relationship between the US and China today. It also offers insights into fundamental driving forces of international frictions and is a call to take urgently necessary steps to address the sources of conflict.
Klaus Schwab, Founder and Executive Chairman World Economic Forum
Check James Fok's speaking fees and availability