Emma Briant Keynote Speaker
Emma Briant's Biography
Emma Briant is an internationally-recognised expert and scholar of information warfare, propaganda, and the digital influence industry. She has been named "one of the world's leading experts in information wars" (Der Spiegel, 2023) and is a leading speaker on the challenge of contemporary online threats and how to respond to them.
Emma is a Fellow at Bard College and Associate at University of Cambridge Centre for Financial Reporting & Accountability. The primary focus of Emma's research is on contemporary propaganda and information warfare and its governance in an age of mass-surveillance.
Emma played a central role in revealing the Cambridge Analytical scandal, and has since advised several documentary films on the subject, including Oscar-shortlisted Netflix film 'The Great Hack', for which she was Senior Researcher, as well as 'People You May Know'.   Her recent work focuses on the ethics of influence operations, and explains how effective data and surveillance driven strategies.  She uncovers the industry that sells digital dark arts to private clients, politicians and governments, and reveals how it is used to shape our information environment and influence beliefs and behaviours.
She has authored several books: Propaganda and Counter-Terrorism: Strategies for Global Change (2015), which explores democracies adapting to digital age information warfare, and Bad News for Refugees (2013), which examined UK political and media discourse on migration prior to Brexit.  Her upcoming book, Routledge Handbook on the Influence Industry will be published soon.  She also regularly contributes journalism and op-eds to major publications.
Emma is known as "the woman exposing the propaganda puppet masters" (Index on Censorship, 2022).  As an expert in her field, she regularly advises and informs international enquiries and policymakers all over the world, including the US Congress, UK Parliament, Canadian Parliament and the European Parliament.  She has advised politicians, NGOs and Big Tech companies on the major threats of the digital influence industry, including disinformation and contemporary influence operations.
Read More
Emma Briant's Speaking Topics
Data-driven Influence Operations
How do surveillance-driven campaigns shape our information environment and influence our emotions, beliefs and behaviors? In a dystopian world of deception, how can democracies fight back without compromising their values? Why are Russia and other adversaries increasingly weaponizing hacking and strategic leaks against Western governments, and how should democracies respond?
Social Media, Influence Industry and Big Tech Policy
How is the private industry behind 'disinformation for hire' undermining democracy and what do we do about it? Have we learned any lessons from the Cambridge Analytica scandal and what remains to be done? Why might fear be more important than falsehood in fighting contemporary propaganda?
Media, Migration and Human Rights
How are refugees stigmatized and migration flows manipulated to advance political agendas? How did falsehoods about refugees in media reporting, political discourse and online propaganda contribute to the Brexit result?
Read More
Videos of Emma Briant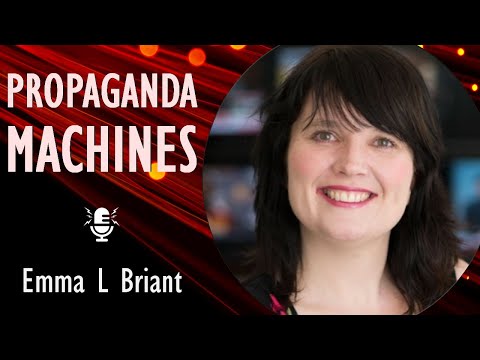 Emma L Briant - The Woman Exposing the Propaganda Puppet Masters - Leading Expert on Information War
Articles, Media & Podcasts
Books by Emma Briant
Propaganda and Counter-Terrorism: Strategies for Global Change
Bad News for Refugees
Comments & Testimonials
"I found Dr. Briant an insightful speaker and her talk helped us understand the dangers of big tech to Democracy, the role of whistleblowers and the next steps that companies and policy makers need to take. Our students found her compelling, easy to understand and an expert in the field."
Prof. Anya Schiffrin Director of Technology, Media, and Communications at Columbia University's School of International and Public Affairs
"I recently hosted Dr. Briant for a webinar and other dialogues regarding how disinformation actors profit financially and politically from sowing confusion in information channels. Her presentations are very informative because she delivers with urgency and candor, leveraging her deep research expertise and networks. I found her engagement highly credible because she offers authentic and independent assessment of the Kafkaesque information environment we currently face, with some ideas for how to mitigate the risk. She has made tangible impact in our audiences, which include current and future global business leaders, because she has helped communicate the vastness of the disinformation threat, the incentives that underlie disinformation agents' efforts, and the depths to which some agents will go to disrupt business practice, sometimes by undermining global economic and political stability. "
Prof. Alan Jagolinzer Professor of Financial Accounting, University of Cambridge, Judge Business School, 2023.
"Your keynote was very well received and from comments I got from a survey to staff it has people thinking much more deeply about propaganda and misinformation."
Renee Raume University of Calgary
Check Emma Briant's speaking fees and availability