Andrew Flintoff Keynote Speaker
Former England cricket Captain, famously led the team to Ashes victory in 2005
Named 'Man of the Series', 'ICC Player of the Year' and 'BBC Sports Personality 2005'
Presenter, BBC show Top Gear
Andrew Flintoff's Biography
Andrew Flintoff, also known as Freddie Flintoff, is a celebrated international cricketer, sports personality and popular motivational and after dinner speaker.
Flintoff is widely considered one of Britain's most successful sports individuals. As a cricketer, a highlight of his career was leading England to Ashes victory in 2005. He was named 'Man of the Series', 'ICC Player of the Year' and 'BBC Sports Personality 2005' as a result of his outstanding performance in the competition. He later became England Captain, where he took the third highest number of wickets by an English player in one day international cricket.
Beyond cricket, Flintoff has forged a successful career in television and media, as a lively and entertaining commentator. In 2019, he was chosen to present BBC show Top Gear, and he is a regular panellist and Team Captain on comedy game show, A League of Their Own. Previously, he commentated for matches on Network 10, hosted All Star Musicals and Cannonball on ITV and in 2015, he won the Australian version of 'I'm a Celebrity… Get Me Out of Here!'. He hosts BBC Radio 5 Live podcast 'Flintoff, Savage & The Ping Pong Guy', with Robbie Savage and Matthew Syed, which was awarded 'Best Podcast' and 'Best New Show' at the 2017 Radio Academy Awards. Flintoff was personally awarded 'Best New Presenter'.
He released 'Freddie Flintoff: Hidden Side of Sport' in 2012, a documentary in which he explored the hidden depression and mental health struggles of many top-performing sporting individuals.
Read More
Videos of Andrew Flintoff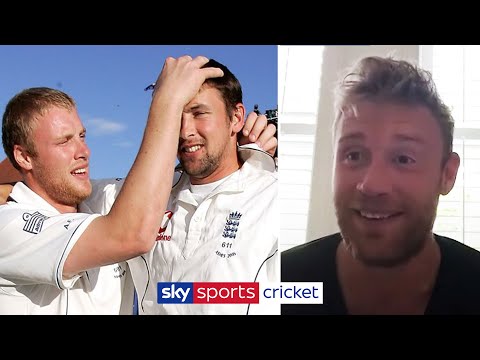 "It was the best bowling attack England ever had" | Steve Harmison & Andrew Flintoff on Ashes 2005 | Sky Sports Cricket
Check Andrew Flintoff's speaking availability and fees
Interested in booking Andrew Flintoff to speak at an event? Please provide your details and we'll get in touch within 24 hours.