Ada Calhoun Keynote Speaker
Author of New York Times Bestseller "Why We Can't Sleep" (2020)
Recipient of the Independent Publisher Book Award gold medal in U.S. History (2016)
New York City-based award-winning journalist
Ada Calhoun's Biography
Ada Calhoun is an award-winning journalist and the author of New York Times bestseller "Why We Can't Sleep" (2020).
"Why We Can't Sleep" is an insightful exploration of the cultural and political challenges facing the women of Gen X, the overlooked generation that falls between Boomers and Millennials, as they reach middle age.
Calhoun is an experienced writer, having authored "Wedding Toasts I'll Never Give" (2017), an honest and refreshing exploration of modern marriage, and "St. Marks is Dead: The Many Lives of America's Hippest Street" (2015), a history book on New York City. She has collaboratively ghostwritten fourteen nonfiction books, including five New York Times bestsellers.
Calhoun has worked as a freelance journalist since 1998 and has featured in Billboard, Cosmopolitan, National Geographic Traveler, the New Republic, O: The Oprah Magazine, Redbook, Time and the Times Literary Supplement. She has written three personal essays for The New York Times' "Modern Love" column, including the popular "The Wedding Toast I'll Never Give".
As a critic, Ada Calhoun is a frequent contributor to The New York Times Book Review and a Theatre critic for New York magazine.
In 2016, Calhoun won the Independent Publisher Book Award gold medal in U.S. History. Prior to this she received a USC-Annenberg National Health Journalism Fellowship (2015) and a Kiplinger fellowship (2014). Calhoun co-founded journalists' club Sob Sisters in 2018, to celebrate female journalists and support young writers.
She received her undergraduate degree in Plan II Honors in the Humanities from the University of Texas.
Read More
Videos of Ada Calhoun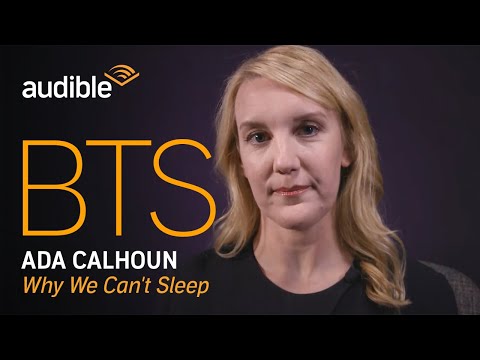 Behind the Scenes Interview with Ada Calhoun, Author and Performer of 'Why We Can't Sleep' | Audible
Check Ada Calhoun's speaking fees and availability